Jérémie Fischer – Talk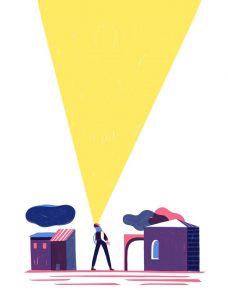 During Opentour 2018, an open week organized by Bologna Fine Arts Academy, illustrator Jérémie Fischer discusses his work in a public talk.
INFO
June 18
Accademia di Belle Arti di Bologna
h 11, Aula L2
Ingresso libero
Jérémie Fischer is a young French illustrator. Picture books and comic books author, he co-founded the magazine "Pan". His visual tales are made of cut out silhouettes, abstracts shapes that overlap creating original combination of colours. He published Alphabet (Orbis Pictus, 2013), L'Eléphouris (Editions Magnani, 2012), Wild at shapes (Nobrow, 2015), Le veilleur de nuit (Editions Magnani, 2014) and Recueil n° 1 (Editions Magnani, 2016).
jeremiefischer.fr
Supported by Transbook Children's Literature on the Move, co-financed by the Creative Europe project of the European Union.
Transbook is a European project co-funded by the Creative Europe Programme 2014/2020 of the European Union, coordinated by Salon du livre et de la presse jeunesse (France) in partnership with Hamelin Associazione Culturale (Italy), Europäische Kinder- und Jugendbuchmesse Saarbrücken (Germany), Tantàgora (Spain), Arts Basics for Children (Belgium), Nobrow Ltd (UK) e Literárne informačné centrum (Slovakia).