Alexis Deacon conference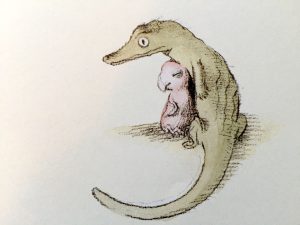 On the 21st of September, between the two modules of our training course for teachers and librarians 
Impariamo a leggere
 ("Learning how to read"), 
Alexis Deacon
 will hold a conference open to the public.
One of the most important contemporary authors and illustrators, Alexis Deacon will discuss his career and work, as well as the specificities of the picture book as a medium, following the programme of the course Impariamo a leggere.
The conference will be open to both the participants of the course and the general public. Admission is free.
Where and when
Alexis Deacon is an English author and illustrator based in London. Before graduating in Illustration at the University of Cambridge, he was awarded the Burt Brill and Cardens award at his University in 2000. Alexis' second book, Beegu (Hutchinson, 2003), a story about an alien who ends up on planet Earth, was shortlisted for the Kate Greenaway Medal in 2003. Jitterbug Jam, created in collaboration with anAmerican author Barbara Jean Hicks in 2004, and You Are Sleeping (Red Fox Picture Books, 2007), as well as the adventures of Croc and Bird are among his best known picture books. His drawing style carries distant reminders of great classic illustrators such as Winsor McCay, William Steig or Quentin Blake, while still maintaining an original and contemporary vibe.
 —
Supported by Transbook Children's Literature on the Move, co-financed by the Creative Europe project of the European Union.
Transbook is a European project co-funded by the Creative Europe Programme 2014/2020 of the European Union, coordinated by Salon du livre et de la presse jeunesse (France) in partnership with Hamelin Associazione Culturale (Italy), Europäische Kinder- und Jugendbuchmesse Saarbrücken (Germany), Tantàgora (Spain), Arts Basics for Children (Belgium), Nobrow Ltd (UK) e Literárne informačné centrum (Slovakia).